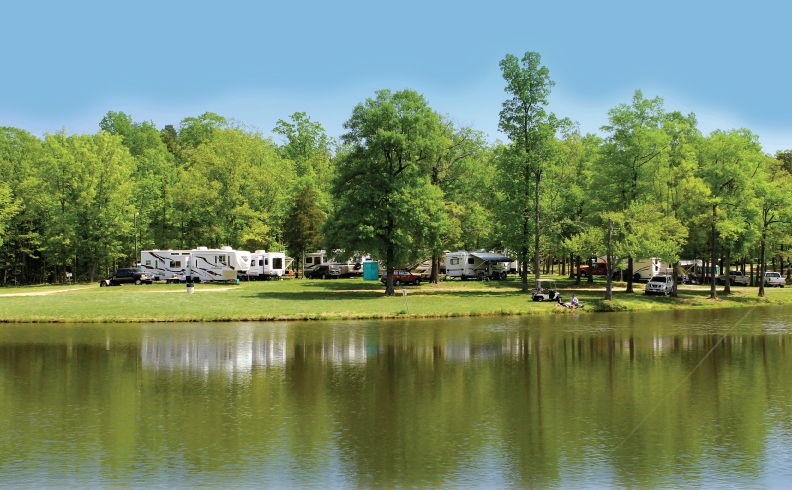 CAMPING FOR BLUEGRASS FESTIVAL
Willow Oak Park has plenty of non-electric sites available for overnight camping. Most campsites are located in shaded areas with easy access and leveling. Some electric sites have RV limitations due to trees. Click here to see a map of the camping sites. Non-electric sites are available around the lake on open grassed areas. All sites are first-come, first-serve. You cannot rope off areas to hold sites for later arrivals unless the site has been reserved and paid in advance. Click here for a map of Willow Oak park.
Camping Fee (All Sites):
Primitive camping sites are $5 per day in addition to festival ticket. You must have a festival ticket to camp.

Check-out time is 12:00 noon — (Thursday camping pass is good until 12:00 noon Friday. Friday camping pass is good until 12:00 noon Saturday, etc.)

Anyone who stays past the check-out time will be charged a $5 penalty and will also be required to purchase a festival ticket for that day.

One vehicle in addition to camper is allowed at each campsite. Extra vehicles on a campsite will be required to purchase a pass to park in the camping area at $5 per vehicle per day. Parking in one-day lot is free.

All persons in park must have a ticket (armband) for festival attendance.

Parking in one-day lot is free with ticket.
Camping Fee for Electric Hook Up Sites:
Campsites with electric hook ups are available.

Advance 3-day minimum ($60) to reserve and hold a campsite with electric hook ups.

Rates: Advance reservations at $20 per day or $100 for entire week (Sunday-Saturday). Any electric sites not reserved will be available at gate on a first-come, first-served basis beginning June 9, 2018 at $25 per day.

All reserved campsites must be paid when reservations are made.

Anyone plugged into an electric outlet will be required to pay for an electric campsite.
Camping Amenities:
Plenty of shaded campsites

Wooded area for tent camping (no generators allowed in this area where noise will interfere with sound system)

Lighted camping area

Clean bath house with hot showers and flush toilet facilities

Campfires allowed in fire rings

Walking trail around park

Various vendors

Security on site

Food concessions

Fishing lake — well stocked (catch and release)
Contact: Mike Wilson mike@WillowOakPark.com 4060-M Harper Trail, Burlington, NC 27215